Every car owner should take care of their automobile to prevent the vehicle breakdown. For example, it's extremely important to choose top-quality motor oil for your car. And it'll be a wise decision to choose synthetic oil. It has such benefits as improved viscosity and provides the vehicle's engine with excellent protection both in cold and hot weather.
However, there are numerous manufacturers of synthetic oils, so it may be a real challenge to choose a reliable product for your vehicle's engine. That's why you should definitely get acquainted with the list below, where you will find the best synthetic oils for your car. It'll help you save your time and money. Also, you'll find an ultimate guide to choosing the best synthetic motor oils under the list. It includes a lot of useful pieces of advice that will definitely help you make the right choice. In addition, you can find a step-by-step guide that you can use to change the motor oil.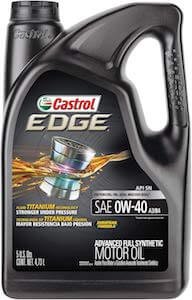 This is premium full synthetic oil that meets the motor oil standards of leading car manufacturers, such as Ford, Porsche, Mercedes Benz and BMW. Its viscosity of 0W-40 makes it perfect for preventing metal components from damages. Furthermore, it guarantees a high protection of the car's engine under extreme pressures and maximizes its response decreasing deposit formation. And bear in mind that it's better to use this oil with Bosh oil filters.
✅ Reduces the damage of metal elements
✅ Lowers the formation of deposits
✅ Perfect for protection of your engine in extreme situations
✅ Meets the standards of world-famed car manufacturers
❌ High price
❌ The oil formula is developed only for European engines
If you are looking for heavy-duty synthetic oil, you should definitely check Lucas Oil 10299. It's a sure way to reduce engine wear, oxidation, thermal breakdown and oil consumption. In addition, the oil includes detergents that will keep the automobile motor clean. Also, due to 15W-40 viscosity, it extends the oil drain intervals up to 30,000 miles. Besides, this oil is great for maintaining the lifespan of catalytic converters.
However, take into account that it's recommended to use this oil in heavy-duty diesel engines. Besides, it's not the best choice for usage in cold weather.
✅ Improves the lifetime of the emission control system
✅ Conforms almost to all oil industry standards
✅ Guarantees high protection of the engine even under extreme pressure
✅ Ensures long oil drain intervals
❌ The oil is suitable only for diesel engines
❌ It's not perfect for the use in cold weather
To get high engine performance, you need to choose top-quality motor oil such as Valvoline 813460. It conforms to the standards of leading car engine makers and is a perfect choice for high-performance motors. Whether your car runs on diesel or gasoline, this oil is just what you need to protect your engine. Furthermore, it can satisfy the owners of hybrid vehicles. The oil is also a perfect choice if you want to meet the API specifications. Among the other benefits of this product are sludge protection, improved fuel efficiency and high level of engine protection both in cold and hot weather.
✅ Guarantees high engine protection both at low and high temperatures
✅ Provides perfect sludge protection
✅ Improves car's fuel efficiency
✅ Oil formula meets the requirements of famous car manufacturers
❌ The oil isn't recommended for heavy diesel and high-mileage engines
Shell is one of the leaders in the motor oil industry. The company guarantees complete customer satisfaction and its products are well-known around the world. Among the variety of Shell oils, you definitely should try Rotella T6. It prevents strain aging and helps save up to 1.5% of fuel. Plus, high heat resistance and low-ash technology are other benefits of this oil. They protect such engine elements as a catalytic converter from blockage. Besides, the oil guarantees a high level of engine protection both in hot and cold temperatures. However, it's recommended to use Rotella T6 only in diesel engines.
✅ Low emission due to special low-ash technology
✅ Guarantees high wear resistance
✅ Prevents heat breakdown
✅ Helps to save up to 1.5% fuel
❌ The oil formula is designed for diesel engines
This is synthetic blend oil with the 5W-30 viscosity. Due to the perfect combination of mineral oils and special additives, it can provide your engine with a high protection and performance. Besides, take into account that this is premium synthetic oil, that's why it's costlier than other products. At the same time, you can get a lot of benefits for such a high price. For example, Royal Purple 51530 will protect your engine from corrosion and tearing. And due to the improved lubrication, the oil guarantees a high protection of the emission control system and fuel efficiency. In addition, it meets ILSAC GF-5 and Dexos1 standards.
✅ Provides high wear protection and fuel efficacy
✅ Compatible with fuels that contain ethanol
✅ Guarantees long engine life
❌ High price
This fully synthetic oil will protect your engine and maintain it clean even in extreme driving conditions. It satisfies the requirements of the majority of car manufacturers. Additionally, tons of positive comments from satisfied customers are another evidence of the oil's top quality.
✅ Great for cleaning engine sludge
✅ Guarantees high engine protection in extreme conditions
✅ Meets the standards of world leaders in the automotive industry
❌ Not recommended for high-performance engines
❌ High price
In case you are looking for a great synthetic oil suitable both for gasoline and diesel engines, you should take a look at Liqui Moly 2041. Choosing this oil, you get German quality in combination with complete customers' satisfaction. It provides a high level of lubrication both in hot and cold weather. This oil will maintain your engine clean and protect its metal elements from damages. Moreover, it fits such standards as the VAG 505 and BMW's Longlife-98.
✅ Provides reliable protection at both high and low temperatures
✅ Meets a majority of motor oil quality requirements
✅ Guarantees high wear protection
❌ The oil formula is more developed for European engines
❌ It's not recommended to use it in small gasoline engines
Mobil 1 is high mileage synthetic oil that guarantees reliable engine protection even if your vehicle has crossed the 75,000 miles mark. It offers great slut reduction. However, you may need to change the oil several times in short periods of time to clean the engine completely. Also, it guarantees better wear reduction and prevents leaks. Unfortunately, it's not recommended to buy this oil for high-performance engines or new cars. But still, the great fact is that Mobil 1 produces the official motor oils for NASCAR. If its products guarantee excellent engine performance and protection during the race, then they will be certainly able to satisfy any owner of a car, who looks for great synthetic oil.
✅ Reduces sludge to maintain the engine clean
✅ Conforms to the standards of the leading automobile manufacturers
✅ Offers high engine protection and lubrication
✅ Produced by world-known brand
❌ It's not the best choice for new cars and high-performance engines
Don't miss a chance to purchase this oil if you want to protect your engine from unexpected breakages. However, take into consideration that it's designed only for gasoline engines. The oil formula includes ZDDP additives that help to protect the emission control system. Also, improved compatibility with ethanol, better fuel efficiency, high corrosion and wear protection are other benefits of this oil.
✅ Provides a high level of fuel efficiency and wear protection
✅ The oil's formula includes special ZDDP additives
✅ Compatible with ethanol-containing fuel
❌ It's not recommended to use this oil in diesel engines
❌ High price
No doubts, if your car has 75,000 miles or even more, it definitely needs help. There may be buildups of impurities that can cause heat and faster wear of the engine. Furthermore, usually old cars need different motor oils than newer ones. That's why it's extremely important to choose the right oil in case you own an old car. And Valvoline 782256 is just what you need.
This oil includes detergents that can protect old engines from corrosion and maintain them clean. What is more, it comprises antioxidants and seal conditioners that are necessary for the protection of seals and prevention of leaking or wear.
✅ Great for old engines
✅ Includes extra detergents and seal conditioners
✅ Guarantees a high level of wear protection
✅ Attractive price
❌ It's not ideal for new or high-performance engines
Ultimate Guide to Buying Synthetic Oils
There are many factors you should take into account before choosing the synthetic oil for your vehicle. This guide will help you to get acquainted with the most important ones to purchase the right product. Also, it'll provide you with information about the benefits of synthetic oils and some useful pieces of advice.
The Additives
Here you can read about the major additives that can be found in this or that synthetic oil. However, take into consideration that it's impossible to find all of them together in one product because every company uses its own unique formula.
Dispersants are used to prevent the clumping of particles and jointing of the sludge.
Conditioners can soften seals and guarantee the engine high performance
Anti-foaming agents are necessary to prevent the oil foaming
Detergents maintain the engine clean and protect it from debris and gunk
Anti-wear agents will increase the lifespan of your engine
Corrosion inhibitors prevent the engine corrosion
Antioxidants slow down the oil's degradation to prolong its usage period
Viscosity Grade
The level of oil viscosity shows how thick or thin it is. The fact is that the oil becomes thinner at high temperature, that's why it's recommended to buy thick oils for heavy-duty engines to ensure smooth work and prevent wearing out. At the same time, if you choose too thick oil, you may get startup problems. It's strongly recommended checking the car's manual to choose the oil with the right viscosity.
However, you should take into account the environment where you live. In case you live in a cold region, it's better to choose oil with low viscosity. Besides, you can find a letter "W" on the oil's bottle, for example 5W-30. It shows whether the oil viscosity is suitable for winter temperatures or not.
Compatibility
It's important to choose the right oil for certain engine. However, you should take into account that some oils may be just not compatible with your engine. That's why you need to find a brand that will work well for your car. Also, some oils are recommended to buy only for modern engines, while other ones can improve the performance of old cars.
And don't forget that, usually, any automobile company has its own requirements related to the type of oils that can be used in its vehicles. If you ignore these suggestions, you may void your warranty. So it's better not to risk and use only required oils.
Fortunately, usually, you can find the information about this or that oil's certification on its bottle. There even may be information that acknowledges the oil meets the requirements of certain automobile company such as Ford, Audi or BMW. Besides, it's recommended to buy synthetic oil blend for new vehicles, while fully synthetic oils are suitable for old car engines.
SAE Rating
The label on the oil bottle includes information that can help you find out whether it's suitable for your vehicle or not. The Society of Automotive Engines (SAE) uses a numerical system to grade the oils according to their viscosity. To choose the right synthetic oil it's important to get acquainted with SAE rating that can provide you with important information. First of all, bear in mind that if oil's SAE rating is 0W-30, 0W-40, or 5W-40, it means the oil is fully synthetic. Also, each of these types has its own advantages:
| | |
| --- | --- |
| SAE Rating | Main Benefit |
| 0W-30 | Provides a high level of fuel economy |
| 0W-40 | Improves your engine's performance and power |
| 5W-40 | Guarantees quick circulation in cold temperatures and ensures good cool starting |
The oils that have 5W-30, 10W-40 or 15W-40 SAE rating are synthetic blend oils. Actually, it's something in the middle of the road between fully synthetic and conventional oils. They can provide you with high performance and fuel economy and, at the same time, save your money.
| | |
| --- | --- |
| SAE Rating | Main Benefit |
| 5W-30 | Ensures a high engine protection |
| 10W-40 | Provides excellent protection with the first 10 minutes after starting out |
| 15W-40 | Increases oil change intervals |
When to Change Your Car's Oil?
The rule of thumb says that you need to change your car's motor oil every three months or 3,000 miles. However, everything has changed due to the development of the automobile industry. There are many cars that need an oil change every 5,000 or even 10,000 miles. The manufactures managed to get such results due to improved engine design.
Plus, a good deal hinges on your driving habits. In case you like intensive driving or pull heavy loads, it won't be a bad idea to change your oil before the recommended time. Additionally, there may be a special indicator on your car's dashboard that shows the time you need to change the oil. And don't forget to check its level at least once a month. When you notice the oil has lost its transparency and turned black, you should change it immediately.
Some drivers also advise rubbing the oil between two fingers. In case you feel it's gritty, it means the oil needs to be changed. Besides, the engine noise may be great evidence that you need to check the condition of the oil.
Ultimate Guide to Changing Motor Oil
It's not necessary to be a specialist in mechanics if you want to change motor oil. All that you need is just to buy proper equipment (container, new filter, clean cloth, funnel, dipstick, screw key, bottle of new oil) and get acquainted with certain details of your car. Also, here you can find useful steps you need to follow to cope with this task successfully.

1. Start the vehicle and wait for several minutes. Take into account it shouldn't be too hot to the feel.

2. Find a draw-off plug and put a container under it. Take into consideration that it should be big enough to contain the old oil. When everything is ready, you can screw off the oil draw-off plug.

3. Now it's time to unscrew the oil filter. Take a screw key to simplify this process. Besides, don't forget that there will be oil in it, so be careful and try not to split it.

4. Take into account that it's recommended to replace the old filter with a new one. Use the new oil to grease the gasket of the new filter. Then you'll need to screw it into the engine. Try to turn it gently until it "seats". When this is done, give it the last three-quarter turn.

5. Wait till the oil drains out. Use a cloth to wipe the place where the draw-off plug must be screwed. Replace the oil draw-off plug and use a screw key to tighten it.

6. Pour new oil using a funnel. Remember that you should do it slowly. When you finish, replace the oil filter cap and start the engine for a minute. In case there are no leaks near the draw-off plug and the oil filter, you managed to reach your goal successfully.

Due to these pieces of advice, anyone can change motor oil and save their money. However, in case you are not sure you can handle this task, it's better to visit a car repair shop, where you'll get professional help.
Synthetic Oil VS Conventional Oil
Although conventional oil can provide your engine with lubrication performance, it can't compete with the high level of protection and performance provided by synthetic oil. Inversely to conventional oil, the synthetic one has such benefits as:
Higher level of chemical stability
Improved energy efficiency
Higher resistance to oxidation
Longer retention of protective qualities
Higher oil film strength
Fire resistance
Higher level of viscosity
Synthetic oil is created through a complex process that removes all impurities from crude oil. Furthermore, it is enriched with special molecules that guarantee top level of performance and protection.
This type of oil provides better engine performance because usually synthetic oils are thinner than conventional ones. It means they cling better to engine parts and guarantee high level of protection. Moreover, they are great for maintaining engine life. Unlike conventional motor oils, the synthetic ones allow automobile owners to avoid oxidation, evaporative loss of oil and oil sludge. And due to different cleaning additives, synthetic oils will expand engine life removing all grime from its parts.
Although synthetic oils are costly, usually, you'll need to change it every 7,000 to 8,000 miles or even more. At the same time, conventional oils need to be changed every 3,000 miles to protect the engine from breakages.
Facts You Should Know About Motor Oils
In case you still have any questions related to motor oils, you can read this list of 5 facts about them. It includes pieces of useful information that may stand you in good stead one day.
1. Bear in mind that there is special motor oil not only for the engine but for such mechanical components as brakes and transmission. It's also important to change these oils as needed.
2. Don't forget to replace old filters with new ones while changing the motor oil. These are the elements that defense the engine against any impurities, so you should keep your eyes on them and check their condition in case you want to avoid unexpected breakages.
3. Do you know that sometimes oil companies add titanium to their products? They do it because every time you turn off the car engine, the oil drains from it back to the pan. Due to the titanium in oil formula, it bonds to the metal components and creates a small layer of protection. That's why the next time you start the engine, it'll be protected before the oil will flow through it.
4. Some manufacturers have also found another great way to protect the vehicle. They add magnetic particles to their products to reduce wear on startup. When the engine is turned off, the oil will cling to its metal elements and ensure wear reduction on startup.
5. You always can switch back to conventional oils, in case you've been using synthetic ones. Synthetic motor oils are compatible almost with all conventional and synthetic blend oils.
Conclusion
Owning a car is a big responsibility. Whether you have a new vehicle or an old one, it's extremely important to remember that preventative maintenance is a sure way to keep your car running. And if you don't want to face the often breakages of your engine, you should buy high-quality motor oils. However, as you can see there is a wide range of synthetic oils and each of them has different characteristics. It will be a great idea to focus on your engine characteristics and try to find out which synthetic oil formula is the best for it.